What we offer
We offer a comprehensive range of services. Whether you're looking to create awareness, inform and train, inspire and create desire, drive sales, or create loyalty to your brand.
Campaigns
We help you create attention-grabbing campaigns that reach your target audience, generate interest in your products and services and stimulate more sales.
Content
Our informative and engaging content is designed to educate and train electrotechnical professionals on the latest industry trends, innovations, and best practices.
E-commerce- enablement
We enable our audience to purchase your products via our trusted network of wholesale distributors, providing a seamless and efficient way to convert leads into sales.
Voltimum Plus
Our loyalty program is designed to reward your customers for the ongoing support and engagement with your products, creating a mutually beneficial relationship and using data to drive more sales.
Email marketing
Email marketing
With the world's largest and best targetable audience in the industry, our email marketing campaigns can help you achieve the right reach and open rates. We run data-driven campaigns based on highly targeted segmentation and specific triggers such as behavioural or transactional.
Display advertising
Display advertising
Our display advertising options include a range of formats such as banner ads, skyscrapers, pop-up ads and homepage takeovers. We also offer retargeting to help you reach customers who have already shown an interest in your products or services.
Content marketing
Content marketing
We will work with you to craft compelling content that showcases your brand and generates attention from the right audience. From informative articles and engaging training videos to whitepapers, we have the tools to elevate your content to the next level and get it all the attention it deserves.
Social media
Social media
You can choose from a wide range of advertising formats and tap into our audience on walled gardens like Google and Facebook to increase your ROI on these channels.
In our Premium Partner Area, showcase your solutions and products in a customised branded microsite and benefit from our 'best value finder' e-Commerce connection to distributors. We drive traffic with high buying intention directly to your pages and provide real-time insights on your customers' intended buying behaviour.
Our news, technical articles, videos (product & how-to), and eCatalogues keep your target audience informed about your company, trends, laws and regulations, and new products.
We offer custom-built configurators and selectors for your products. These tools allow for flexible configuration of all options, accessories, shunts, contacts, and wiring schemes or the selection of the right product bundle.
Our platform offers multiple paths to conversion of leads, ensuring that professionals with high purchase intent can easily find their preferred point of sale with a range of buy buttons available across our site, including in the Premium Partner Area, product reviews, eCatalogues, training, and Voltimum Plus.
Our user-friendly approach, combined with data-driven insights, ensures high sales conversions and valuable optimisation of the purchasing journey.
We offer services to help you convert your product catalogue data into the required formats for online channels, as well as consulting and implementation services to help you maximise your e-commerce potential.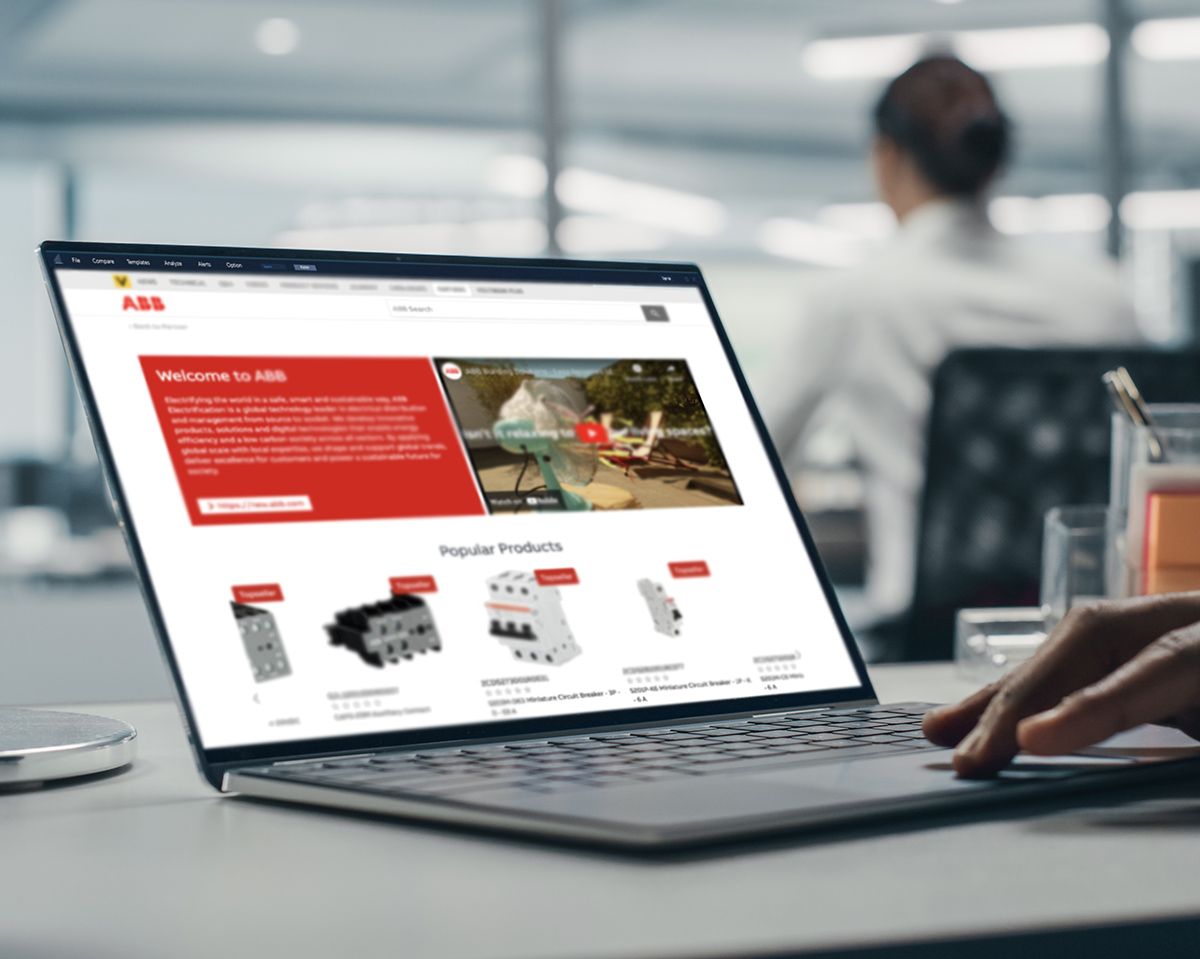 Boost your sales and provide your audience with a seamless buying experience.
Voltimum Plus, the electrical industry's premier loyalty program.
Voltimum Plus members (electrotechnical professionals) earn points for their everyday purchases of participating brands from participating distributors both online and offline. Points can also be earned by attending webinars and online events hosted by participating partners. Members can redeem points for exclusive rewards, such as free products, event tickets, vouchers etc.
Participating brands benefit from increased sales and increased share-of-wallet. Participating distributors get access a new customer base and boost sales through e-commerce enablement and comprehensive marketing tools available on Voltimum.
Rich data set
Rich data set
With the largest reachable audience, we cover the entire customer journey with both behavioural and transactional data. Every second, more data is automatically added.
Great analytical capabilities
Great analytical capabilities
We use dedicated internal and external experts to analyse data and derive valuable insights. We use state-of-the-art statistical methods, including AI, and frequently develop and test use-cases in a structured process.
Customer-orientation
Customer-orientation
Partners are involved in the early phases of use-case development, and distributors and brands get access to data in their preferred way, whether it's through a dashboard or as simple as an Excel sheet. We constantly review, analyse, learn, and improve our own platform and your campaigns.
Market research services
Market research services
Our market research services leverage our trusted brand and extensive reach to your target audience. We offer a range of research options tailored to your specific goals. We draw on our vast knowledge to design, execute, and analyse data and provide you with valuable insights to drive your business forward.
Data privacy guaranteed
Data privacy guaranteed
We meet all regulatory/legislative requirements to ensure data privacy.